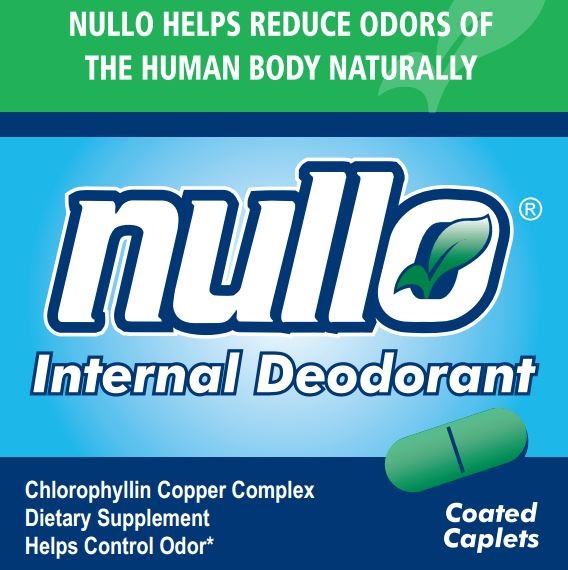 "My dog love to roll around in all kinds of things. I can't stop her from becoming dirty but I can stop the smells that linger on after her bath. After giving her Nullo, I noticed a change in her smell and it has also cleared the bad breath." - J.E.
Q: IS NULLO SAFE?
A: YES. The Food and Drug Administration has reviewed the primary ingredient of Nullo, for use as a drug with no reports of serious side effects or drug interactions and exempts this ingredient from any requirement of toxicity warning. Infrequently, diarrhea or cramping may be experienced. If this occurs, reduce dosage. If symptoms still persist, contact a physician and discontinue use. Greening of the stool may be noticed, which is completely harmless and is an indicator that Nullo is dispersing throughout the intestinal tract as intended.
Q: HOW OFTEN DO I TAKE NULLO?
A: Nullo is a small pill that only needs to be taken once in the morning and once at night in the majority of cases. Most failures to quickly achieve and consistently maintain satisfaction with Nullo arise from failure to maintain a regular intake schedule. Nullo is just like your morning cup of coffee, or a spritz of evening perfume, or external deodorant - Nullo can't consistently work to its full effectiveness if you don't use it regularly and on schedule. Nullo's main ingredient chlorophyllin is water soluble and flushes freely into and out of your system as the level of intake is maintained. If you do inadvertently skip a caplet or two, simply return to your scheduled intake as soon as possible and Nullo will quickly regain full effectiveness.
Frequently Asked Questions About Nullo
Q: ARE THERE ADVANTAGES TO USING AN INTERNAL DEODORANT VERSUS EXTERNAL DEODORANTS?
A: YES. Nullo does not "mask" or "cover up" odors, but rather neutralizes the odor itself. Also, many people cannot use traditional external deodorants or antiperspirants because of allergic reactions. Nullo does not contain aluminum.
Q: WHY USE NULLO OVER OTHER SIMILAR PRODUCTS?
A: The main ingredient in Nullo is chlorophyllin copper complex, an isolate derived from natural sources. Unlike native plant chlorophyll, such as is contained in tinctures of alfalfa or wheat grass, chlorophyllin copper complex is a water soluble molecule. Nullo is not a "new" formulation - it has been in use in hospitals for many years. The purity of ingredients and carefully controlled process of manufacture used in the production of Nullo yields a supplement of proven effectiveness. Nullo has a long history of success in the medical industry [over 50 years!] providing satisfaction in clinical usage.
Q: HOW LONG DOES IT TAKE FOR NULLO TO START WORKING?
A: Nullo works from the inside out and begins to have beneficial effect as soon as it reaches your intestinal tract, but full effectiveness requires several days of consistent use. Fully effective deodorizing performance by Nullo is only achieved after the water soluble main ingredient has been dispersed throughout your entire system and become available for absorptive action.
The time required for Nullo to reach full effectiveness varies depending on your metabolism and diet, and can be quite fast [as little as 2 days], but is typically 4 to 5 days after you begin using Nullo. For some perons and problems however, full effectiveness can take as long as 2 weeks.
Start by taking two caplets a day but if Nullo has not fully controlled odor after one week of use consider increasing intake to three caplets a day during the 2nd week. Typically fully grown adults persons find two caplets a day to be an effective maintenance intake rate for full effect, but some folks must continue at three caplets a day to maintain the full deodorant potential of Nullo. Use the smallest intake required for maintenance of the deodorant effect, but continue this rate of intake on a consistent basis to achieve maximum benefit at all times.
Q: HOW DOES NULLO WORK?
A: We all live in concert with a vast population of bacteria inside, on and about our bodies. This is perfectly natural - in fact we need these little friends to digest our food - but a side effect of this population is odor causing waste products by these little friends which are a natural part of our own collective wastes and emissions (breath, perspiration, etcetera]. Nullo's primary ingredient chlorophyllin causes a change in metabolism of odor-producing bacteria. This affects a neutralization or complexing of the odorous gases and other waste products of these bacterial populations and thus the odors of our bodily emissions through the breath, perspiration, and other wastes are dramatically reduced.